Gothic wedding dresses are the new chic trend paving its way. Most of the brides these days are not afraid to enhance their personalities and show their true selves. Creativity and imagination indeed have taken it to new heights. You can distinctly see the difference as more and more bold and confident women opt for it despite their families having traditional white dresses for ages in the past. It is very well glorifying the notion that no two brides are the same.
Here are some of the examples of popular gothic wedding gowns:-
Ball gowns are the first thing that appears in our minds when we think of wedding dresses. They give you this princess, lady-like look that is gorgeous and elegant. Depending on your taste, you can have it all black or different colors. You can also choose whether you want to have straps or sleeves or go without them. You're good to go, girl!!
The majority of the brides opt for A-line dresses. They make your natural waist look so enhanced. You can do no customizations to them depending on your taste and satisfaction. They fit every body type so perfectly and can never go unnoticed. With a little bit of creativity, they can look unbelievable.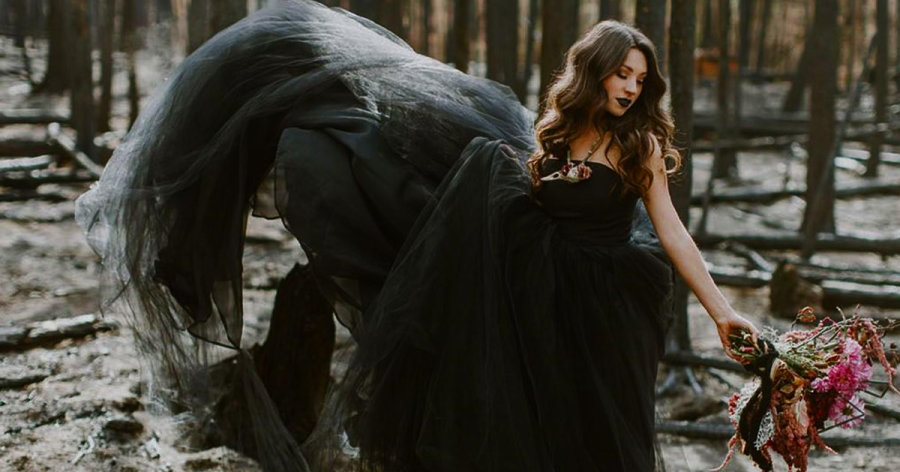 If you want a body-hugging dress and not something very flowy, then a straight-line dress is the perfect match for you. Straight-line dresses with no trail and sleeves are the new thing now, but you can still suit according to your taste. Saturn cloth looks especially elegant in these dresses. Don't forget to try as many as you want.
If you want to add more drama to your wedding dress, then a mermaid dress is perfect for you. Its body-hugging part makes your waist and body shape look so sassy, and the bottom flare part gives it a flowy and feminine look. It's pretty over the top.
Trumpet dress is perfect for you if you want something body-hugging as well as flowy with less drama. It's super sexy and beautiful at the same time. You can choose whether you like it with sleeves or straps or go off your shoulders. Customization is always a choice.
Here are some gothic wedding dress styles:-
Strapless
Strapless dresses look amazing. They look exquisite and beautiful with all kinds of dresses. It very well flaunts your neck and collar bones which looks stunning.
Sleeves are a new trend nowadays. Different styles of sleeves go well with different types of dresses, and they look fantastic. Dark-colored dresses with sleeves look exceptionally unique. They give you a bolder and more confident vibe.
These are also the new things in the market. Bridal blazers are comfortable and do not even compromise on the fashion quotient. They are extremely affordable as well, sometimes even less than a dress. They are even easily incorporated in the after ceremonies.