If you are having a summer wedding and you dreamed about flowers in your hair on your wedding day. Then let me tell you, this is a great combo. Flowers in the summer wedding will give a bride a natural boho look. The flower crown is one of the popular trends in every generation, and this trend is evergreen for all types of weddings.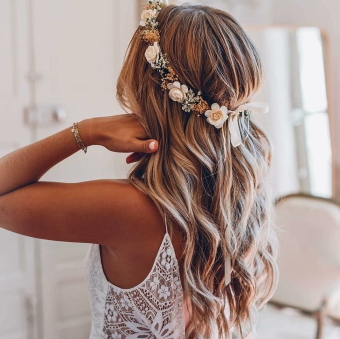 If you think that the wedding hairstyles with flowers have certain limitations, then you are wrong. You will find different types of hairstyles in which flowers are added in the form of accessories. Wearing fresh flowers in your hair, you can add some personalized features to your wedding, and it will make your special day more memorable.
Following are several great ideas of wedding hairstyles by adding the flowers as an accessory in your hair.
Wedding updos hairstyle with flowers –
This hairstyle is one of the popular hairstyles among brides because of its natural and unique look. When you wear flowers in your hair as a bride, then it will create a gorgeous look. You have to choose the flowers which will compliment your dress as well as your hair color.
Sometimes, the bride likes to add one color of flowers for a simple look, which will look beautiful with the updo hairstyle. For a summer wedding, most of the brides prefer to create a low bun. They couple this hairstyle with a decent color combination of flowers on the top, which looks like a crown.
Down wedding hairstyle with flowers –
These hairstyles are great for every hair texture, but if you have curly hair, you can slay in the hairstyle on your wedding day. In this hairstyle, you have to put your hair down open. The relaxed hair will give extra elegance to your look. You can wear flowers as the crown on the top of your head.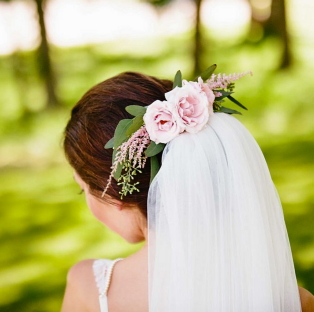 You can flaunt the natural texture of your hair by just adding some colorful flowers to your head. This is one of the simple wedding hairstyles which will give you a polished look on your wedding day.
Half up-wedding hairstyles with flowers –
This is one of the perfect hairstyles suitable for the flower accessory on the wedding day. It will provide more space to pin flowers in your hair. You can broaden your hair from the sides and create a flower crown around your head. This hairstyle will give you a beautiful look.
You can pin your hair back in the braid and use the incredible color of flowers to complement your dress. Flowers will add extra texture to your wedding and help you to look beautiful.