Wedding day is the most important day of a woman's life. They want to look the most beautiful and perfect. With lots of ifs and buts, they finally decide upon their wedding dress, makeup, and last but not least, hairstyles. Choosing a hairstyle that looks not only flawless but also goes all day long is a difficult task. More and more stylists include braids while making hairstyles. Girls and their long locks flow with the braids, which look lovely and stylish. From ancient times braids are famous and fashionable. Nowadays, girls prefer to include braids either sideways or carry French braids with different accessories for buns.
Let's see the bridal hair braids ideas:
Ø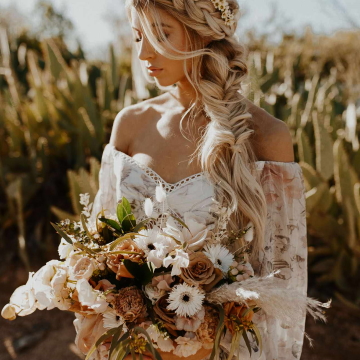 Backside braids with flower & pearls
Style your back hair with braids and decorate them with matching small size flowers. You can also use pearl accessories.
Ø  Front braids with a bunch of flowers
Most stylists love to give front hair a new look for their bridal makeup. They do front braids and style them with a bunch of flowers.
Ø  Boho fishtail
This hairstyle will cover all your hair. Here, the ends of your braid will look like fish. This style looks good on people with heavy hair. Due to its intensive load, it is harder to carry all day long.
Ø  Fully braids with accessories
Suppose you want to try the fully braid with accessories. Start by dividing the hair into two sections and covering them with full braid, and style them with flow line accessories also add glamour to the bridal.
Ø  Sideways braids with stylish hairpin
If you prefer to stay simple or have short hairs, you can go for sideways braids and tie them with stylish pins.
Ø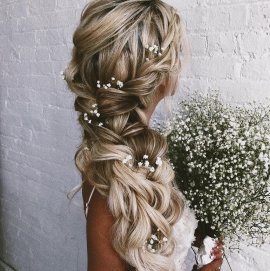 Lower Half hair braid with buns
Putting upper hair simple and covering lower half hair with a braided bun also looks fantastic. It will also last a full day long.
Ø  Curly hair and braids
If you want to flaunt your curl with a braid, ask your hairstylist to make a thick braid so that it doesn't hide with curls.
Braids always look fashionable, and the best part is that it is reasonably easy to decorate with different accessories. You can use anything like flowers, buds, pearls, and stylish pins. Always tell the hairstylist which braids hairstyle you love to have so that they can give you proper advice about which braid hairstyle is perfect for you. So go for the wedding updos with braids and flaunt your day.